The close of 2020 was a glad event for many of us. It was even sweeter for Faith Bart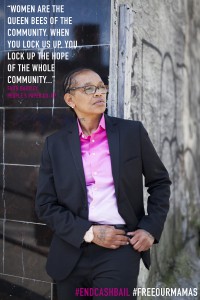 ley, who graduated in December from the ACE Partnership Site program of Harcum College at Deliverance with an Associate Degree in Human Services. Faith chose to begin her college journey with ACE because of the convenient schedule and familiar faces found at Deliverance. The choice to pursue higher education in general stemmed from a desire to elevate her mind. Evidence of that commitment to personal growth is readily found in her work with the People's Paper Co-Op of the Village of Arts and Humanities. Here, she recycles paper from old criminal records into handcrafted journals and canvas for original art; literally transforming the histories of women with criminal backgrounds into fresh blank pages on which they can imagine and create new stories. Proceeds from the sale of journals and artwork fund bail payments for mothers who cannot post cash bail so they can remain at home with their children until the next court proceeding. 
Recently, Faith and her work with the People's Paper Co-op was shared on 6ABC's program Visions. Below is the text of the story as narrated in the video clip (linked to title and worth enduring the preceding 30 second advertisement!).
Inside the Village of Arts and Humanities, Faith Bartley is hand-making paper, creating what will be the canvas for art or the pages of a hand-crafted journal.
The art is an exercise in healing. The paper is made from old criminal records, including Bartley's own, creating a symbolic and clean slate for the women to re-enter society and embark on a fresh start.
Bartley grew up in North Philadelphia with, as she says, a mom who was addicted to drugs and a dad missing in action.
She also turned to drugs and did several stints in prison. Every time she got out, she vowed not to go back in, but the high school graduate and Army veteran couldn't convince anyone to hire her.
Then she found the People's Paper Co-Op, a place that would teach her how to make paper and how to advocate for women still behind bars.
For Mother's Day, the women sell their art to raise money for moms who can't post cash bail. The past two years, they've raised more than $120,000 for the Mama's Day bailout
By Wendy Daughenbaugh
Art for sale: http://peoplespaperco-op.weebly.com/
https://www.facebook.com/peoplespaperco