On her graduation day in May, 2016, Drue Bailey may have had a lot of thoughts going through her mind. Besides the excitement of finally earning her degree in middle age, she had met and was dating Michael Burks, another student in the Harcum @ Chester site. When they met at the Chester site, and befriended each other, both of them were happy to be companions as study partners and exercise buddies. The casual friendship deepened as they spent more time together. Michael was impressed by Drue's work ethic, her willingness to strive for more than was required, and was moved by her compassion. A self designated country boy at heart, he hesitated to go further and ask for a date. "She was out of my league."
Drue was blown away when Michael arrived with a dozen roses to take her to the movies as a "friend." Afterward, they talked for hours and found that they had a lot in common. This was a different experience for her, and she realized that he was actually courting her.
Their relationship was growing serious and both were planning to continue their education. However, Michael was on schedule to graduate the following year. Although he encouraged Drue to begin classes at Lincoln that fall, she told him that she would wait for him. "We began together, and I want to finish with you." Michael says that this one sentence "sealed his fate" because it showed him how devoted she was to both him and their relationship.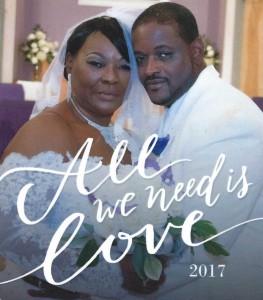 They both came to believe that they had a spiritual connection ordained by a God who helped them find each other. They married in 2017, on New Year's Day, in what they both describe as a 'fairy tale' wedding. The magic even extended to the weather as a predicted snow storm held off until they left the church. He had proposed a year earlier, on Christmas Day in front of both families, and every family member participated in the wedding.
Long before enrolling in the Harcum@Chester program, Drue and Michael had different views about college. Drue had started school twice before, but couldn't complete her degree because she had to concentrate on raising her children, heeding her family's motto that 'you always finish what you start'. Around the time that her youngest left home, Drue's employer Resources for Human Development offered employees an opportunity for promotion if they enrolled in the Harcum program. The company promised to support her, and her work in a group home gave her the opportunity to apply what she was learning in class, so she enrolled.
Michael, an ex marine, was a tractor trailer driver and school bus driver who had not thought about college until his seven year old daughter surprised him with a challenge. She reminded him that he was always telling her and her sisters that they should get good grades, and that he expected them to go to college and asked him, "how can you tell me about getting good grades and going to college when you only have a high school diploma?" He realized she was right. Why didn't he have a college degree? He saw a flyer about the Harcum@Chester program at church and enrolled. 
Both Michael and Drue excelled in the associate degree program, together earned bachelors degrees from Lincoln University, will complete studies for their masters degrees in May, 2021, and be inducted into the Pi Gamma Mu International Honor Society for Social Sciences. They attribute a lot of their success to their support of each other. They studied together and shared ideas, often expressing differences that improved their insight into different topics. The strength of their relationship was born out in 2014 when Michael faced some serious medical issues. With Drue's help and the memory of his daughter's voice, he returned to school after only a week, despite medical advice. He could barely walk, but was determined to 'take one step at a time' and never missed a class.
College completion has made it possible for them to move ahead in life. In addition to the RHD promotion, Drue got a job with an insurance company that required a degree and inspired three RHD colleagues to enroll in college. Michael continues to work at RHD, and has received a promotion.
What does the future hold? Their vision to begin a program offering job and life skills training to at-risk youth has crystallized in recent months. The idea is to engage youth in real time employment opportunities while in high school, and commit their earnings to savings and investments for individual college funds. Participants gain a vision for a positive future which is passed on to younger siblings. "We want to stop the cycle of youth incurring minor offenses, developing a record, dropping out of school and turning to selling drugs because they can't get a job. And then being stuck in the system for their early adult lives. We want them to know they can make a different choice."
The program will help youth make different choices in all aspects of life by incorporating the practical and simple tool of mindfulness and will be named "WHY?" an acronym for What are you going to do about it, How are you going to do it, and only You can do something about it. "If you think consciously about what you're doing, you probably don't need to be doing it. If youth make good decisions by age 18, maybe they'll live until 50."
Love for community, family and one another form the foundation of Drue and Michael's dreams for the future. Whatever they decide to do, it's a good bet that they will be working on it together.